The students have been showing an interest in spiders during exploration in the outdoor classroom. We wanted to continue that work inside and made it a focus at our story time.  Chase recognized the book as "nonfiction".  The students then used drawings, writing, and open ended art materials to share their understanding of spiders.
Chase and Emma G drew Black Widow spiders.  Chase's spider has caught a fly in its web.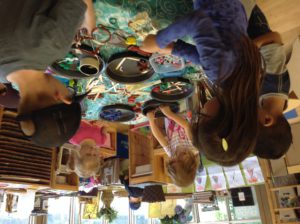 Gemma used clay to form a spider's body making sure to add eight eyes and two body sections.  "This one is the tummy (abdomen)."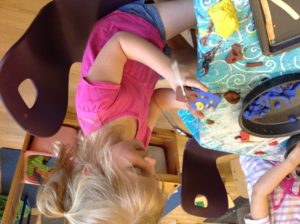 Sam built a web with popsicle sticks, tape, and pipe cleaners.  He drew a picture around the web.  He explained that the spider's web was formed between two trees to catch the insects flying towards the sticky web.
Emma Y. wrote "Baby spiders are called spiderlings."
Ryan put 4 qtips on each side of his spider for a total of 8 legs.  He created a web starting with a triangle and then added "circles getting bigger and bigger."
Parker build a spider with "two fangs for the venom".
Katie used a variety of material to make a spider.  She had to do some quick math when she only counted 6 legs.  "I need two more".
Even though we know a lot about spiders we are still questioning and want to know more!